Posted: December 5, 2013


Daniel Adongo, 24 (born in Nairobi, Kenya), is set to make his NFL debut as a linebacker for the Indianapolis Colts who will be playing against the Cincinnati Bengals on Sunday. Adongo, who is new to the world of American Football (about five months ago he knew very little about it) formerly played professional rugby in South Africa. He was discovered by Ryan Grigson (the Colts' general manager) who was reportedly impressed by Adongo's speed and tackling ability after watching him play rugby.


Paris Hilton takes Dubai.
Posted: December 4, 2013


Hollywood socialite and self-proclaimed businesswoman Paris Hilton just recently spent some time in Dubai taking care of some business. On Sunday, she showcased her DJing skills by performing at Dubai's Cavalli Club; on Monday, she headed to the Arabian Centre to promote her new handbag line -- Rouge by Paris Hilton -- at a store named after her. In between her busy schedule, she also had some relaxation time: she took the following photo while relaxing at the Palm Resort on the coast of Dubai.
Paris Hilton at the Palm Resort in Dubai (She refers to Dubai as her new Hawaii).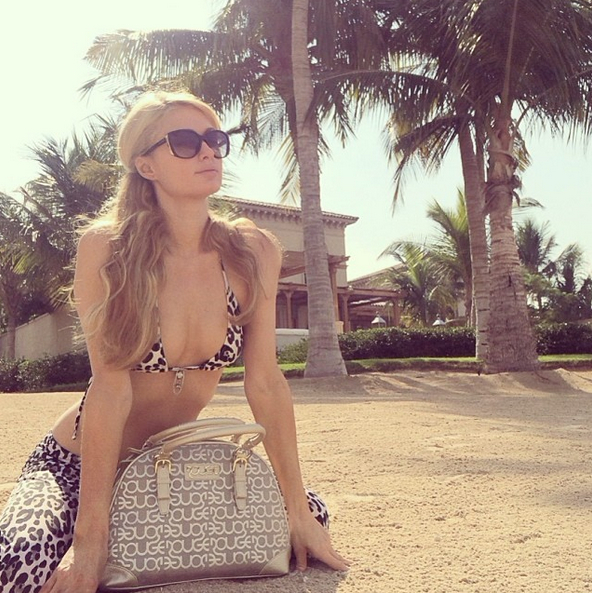 Caroline Berg Eriksen under fire for post-pregnancy body selfie.
Posted: December 3, 2013


Caroline Berg Eriksen, a fitness blogger, is currently under fire for posting a selfie on instagram showing off her flat stomach just four days after giving birth. Along with the selfie, she wrote the caption, "I feel so empty ... 4 days after birth." Critics are referring to the selfie as extremely provocative, an act of war, obscene, intimidating, unhelpful, freaky, unfair to all women, etc. Nevertheless, the photo has been liked at least 20k times on instagram and positively reviewed.
Caroline Berg Eriksen: I feel so empty ... 4 days after birth.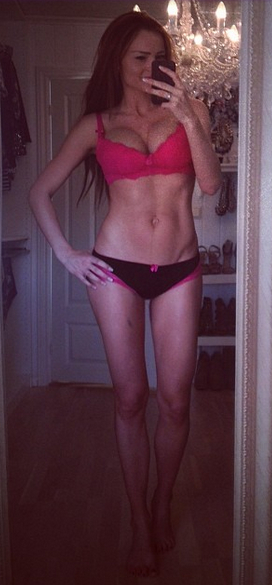 Amazon's CEO Jeff Bezos unveils Amazon Prime Air.
Posted: December 2, 2013


Amazon Prime Air, a service that is expected to deliver packages to customers within 30 minutes of an order, was introduced to the world by Amazon's CEO Jeff Bezos on CBS' "60 Minutes." Implementing this service will be autonomous drones that will not require any human guidance; instead, they will rely solely on GPS technology and will use electric power to travel at most about 10 miles to deliver a package that weighs at most 5 pounds. FAA approval of this service is expected in 2015.
Amazon Prime Air - The Future of Package Delivery.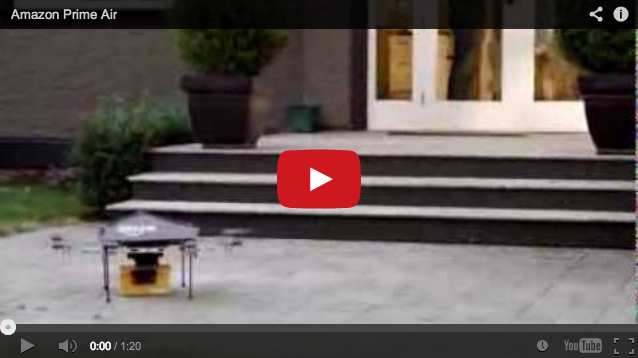 Nina Agdal and Max George take Barbados.
Posted: December 1, 2013


Model Nina Agdal -- best known for being a Sports Illustrated model and also a Victoria's Secret Angel -- and her boyfriend Max George of "The Wanted" -- an English-Irish boy band -- spent most of their Thanks Giving Day weekend in Barbados. While there, they took a walk on the beach, went spearfishing, and had some relaxation on a cool yacht. The two are rumored to have started their relationship in September 2013 a few months after Nina got dumped by Adam Levine (People's Sexiest Man Alive).
Nina Agdal and Max George going fishing.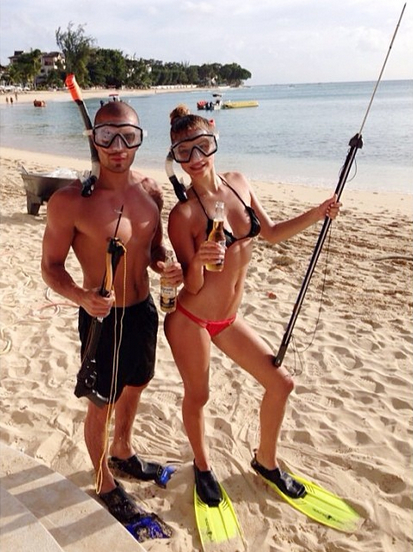 Black Friday Chaos.
Posted: November 30, 2013


An officer responding to a shoplifting incident at a Chicago Kohls store was dragged by a car; at least three people got into a brawl in a Wal-Mart parking lot due to some people skipping the line; at another Wal-Mart, a man was slashed to the bone with a knife after threatening another man with a gun as the two argued over a parking spot; a bomb threat at another Wal-Mart led to a storewide evacuation; and at a Philadelphia Mall, a woman used a stun gun on another woman after an all-out brawl.
Black Friday Chaos - The Texas Version.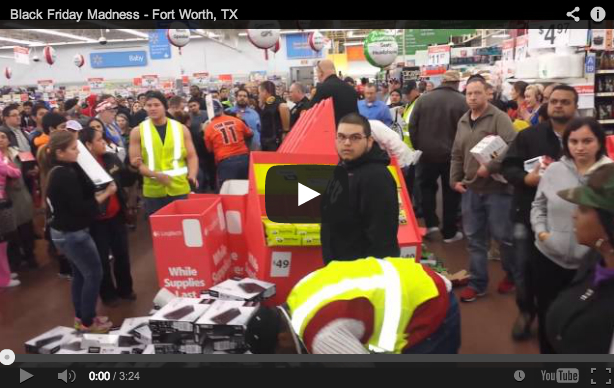 Kim Kardashian goes Commando in Miami.
Posted: November 29, 2013


Kim Kardashian and Kanye West spent Thanks Giving Day in Miami. While there, Kim took various selfies with her man Kanye and posted them on instagram. Some of the selfies were taken in a public restroom at the American Airlines Arena where Kanye had a performance as part of his "Yeezus" tour. About the selfie below, Kim stated, "Bathroom selfie right before Yeezus hits the stage." We don't know if she has panties on in this selfie. Kim and baby Nori are accompanying Kanye during his tour.
Kim Kardashian and Kanye West Bathroom selfie right before Yeezus hits the stage.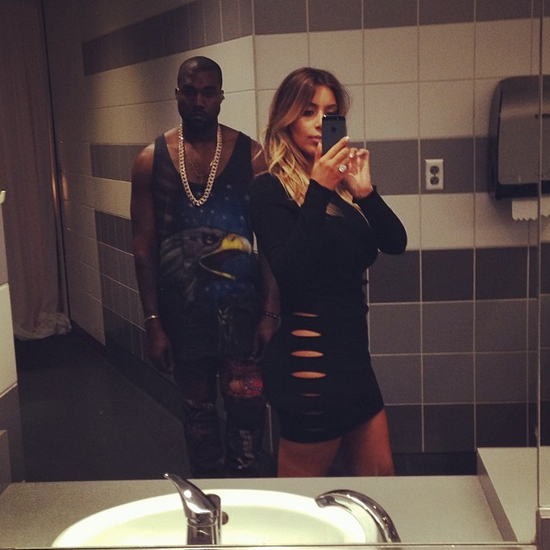 Macy's opens on Thanks Giving Day; boosts Black Friday sales.
Posted: November 28, 2013


For the first time in history, Macy's has opened its doors to shoppers on Thanks Giving Day. Macy's stores nation-wide were opened at 8pm instead of 12am (Black Friday) as was the case last year. Macy's CEO Terry Lundren witnessed the opening at the Macy's in Herald Square, NYC, and said, "I had to get out of the way ... There was a steady stream of humanity coming through the front doors for about 12 or 13 minutes." He also said that Macy's employees wanted to work on Thanksgiving Day.


Linking animal behavior to natural disasters.
Posted: November 27, 2013


In October, 2 oarfish surfaced at the shores of Southern California. According to some scientists, this could be a sign of an upcoming natural disaster because these types of fish are rarely seen by humans -- they live very deep within oceans. Supporting these scientists' theory is the fact that before a 9.0 magnitude earthquake struck Japan in 2011, a group of oarfish washed ashore there. In 373 B.C. snakes and rats, left Helice (an ancient Greek city) before a massive earthquake struck there.
Oarfish surfaces ashore in Southern California.
CBS correspondent Lara Logan to take a Leave Of Absence.
Posted: November 26, 2013


CBS has announced that Lara Logan -- the correspondent linked to a discredited Oct 27 report about the attack on the U.S. diplomatic compound in Benghazi, Libya -- and her producer, Max McClellan, are taking a leave of absence from work. Reportedly, this is a punitive measure for the shortcomings in the Benghazi report, which has stung the reputations of Logan and the program that televised her report, "60 Minutes." Logan hasn't talked publicly about the Benghazi report since her Nov 10 apology.


Miley Cyrus and a crying Pussy perform at the AMAs.
Posted: November 25, 2013


Miley's AMA performance hasn't caused as much - if any - outrage as her VMA performance did. This is totally understandable since there was no controversial twerking or "form fingering" involved. All she had with her on stage as she performed her single "Wrecking Ball" was an emotional pussy that at some point started to cry and then stuck its tongue out "Miley-style" at the end of the performance. Also, unlike in the single's video, Miley wasn't nude; she wore a bikini with pussy-faces on it.
Miley Cyrus and a crying Pussy.
Taylor Swift wins American Music Awards' Artist of The Year award.
Posted: November 24, 2013


For the third time, Taylor Swift, 23, has won the American Music Awards' Artist of The Year award. "My lucky number is 13, and so far you guys have made 2013 the most magical year of my life ... I cannot thank you enough. This validates that if you voted for this that we're heartbroken the same way and we fall in love the same way and we're happy the same way," reacted Taylor, who also won the Country Album of The Year (for "Red") and Favorite Female Country Artist and Pop/Rock Artist awards.


'Penniless and Hopelessly Bankrupt' Scot Young ordered to pay $32.5 million to his ex-wife.
Posted: November 23, 2013


Scot Young, 51, a well connected British millionaire has been ordered to pay $32.5 million to his ex-wife Michelle Young, 49, in spite of his claim that he is currently penniless and hopelessly bankrupt. High court judge Philip Moor has branded Scot, who is believed to be worth $65 million, a liar. Scot's story has been that his business empire totally collapsed living him with 28 million pounds worth of debt. He and Michelle had been married for 17 years prior to their separation in 2006.


According to People magazine, Adam Levine is the sexiest man alive.
Posted: November 22, 2013


People magazine has selected Adam Levine -- an American singer, songwriter, and musician best known as the lead vocalist for Maroon 5 -- as the sexiest man alive. Following this news, Adam said, "As a musician, you have fantasies that you want to win Grammys, but I didn't really think that this was on the table..." Adam, who also happens to be a judge on "The Voice" alongside Christina Aguilera, CeeLo Green, and Blake Shelton, is currently engaged to Victoria's Secret model Behati Prinsloo.
Adam Levine in a selfie with "The Voice" contestant Jacquie Lee.
Harry Styles, 19, and Kendall Jenner, 18, go on a date.
Posted: November 21, 2013


Harry Styles and Kendall Jenner were seen exiting the backdoor of Craig's, a trendy eatery in West Hollywood on Nov 20. They were on a dinner date and left together in Styles' Range Rover afterwards. Reportedly, Styles arrived in the US on Nov 19 to promote One Direction's latest album and also make an appearance on "The X Factor." While Styles has previously been linked to Taylor Swift and model Cara Delevingne, Kendall has been linked to college athlete Julian Brooks and rapper Young Jinsu.
Harry Styles and Kendall Jenner.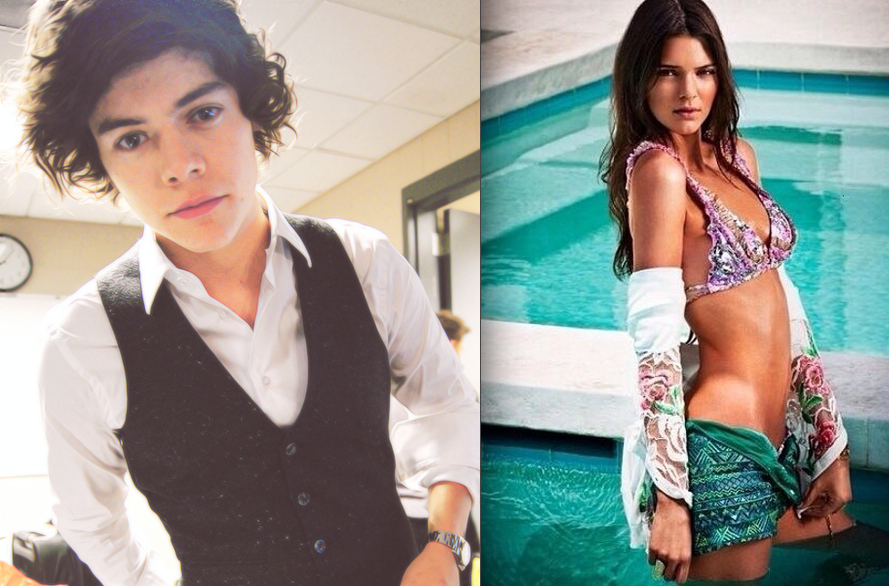 Charles Manson, 79, is set to get married to "Star," 25.
Posted: November 20, 2013


Convicted serial killer Charles Manson, 79, is set to marry a 25-yr-old lady he nicknamed "Star," so she claims. Manson is known to have brainwashed his commune into murdering nine people in 1969; he also convinced his followers that an apocalyptic racial war between blacks and whites was about to begin and then encouraged them to start it. Because he did not participate in any of the killings, Manson was convicted of murder through America's shared responsibility law. He is serving life.
Convicted serial killer Charles Manson 79, and his fiancee Star, 25.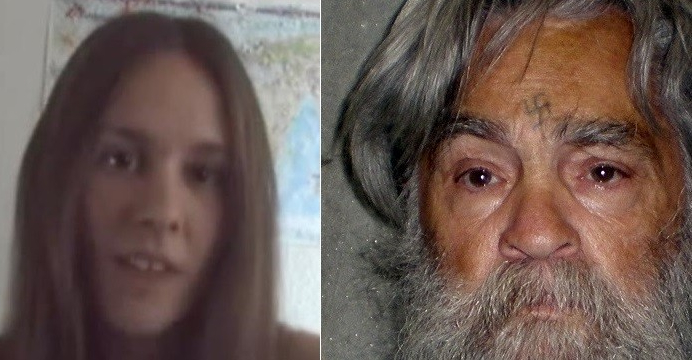 Congressman Trey Radel busted on cocaine charge.
Posted: November 19, 2013


Congressman Trey Radel -- he voted for drug testing food stamp recipients -- was arrested on Oct. 29 for cocaine possession in Washington, D.C. Following his arrest, he stated, "I'm profoundly sorry to let down my family, particularly my wife and son, and the people of Southwest Florida ... I struggle with the disease of alcoholism, and this led to an extremely irresponsible choice. As the father of a young son and a husband to a loving wife, I need to get help so I can be a better man..."


Toronto Mayor Rob Ford knocks over a woman during a meeting.
Posted: November 18, 2013


A video has surfaced showing Toronto Mayor Rob Ford knock over a City Councillor during a meeting to vote on stripping Ford most of his executive powers. Ford appears to be charging towards someone else when he collides with Councillor Pam McConnell. All the while, Ford's brother and council member, Doug, allegedly screams, "Scumbags!" In explaining his actions, Ford - whose troubles are mostly related to his drug use - says he was running because he saw his brother getting into an altercation.
Toronto Mayor Rob Ford knocks over a woman.
Alec Baldwin uses anti-gay slur during an altercation with a photographer.
Posted: November 16, 2013


While outside his Manhattan apartment, Alec Baldwin got into an altercation with a photographer during which -- according to most observers -- he called him a "c--ksucking f-g." Baldwin insists that the second term he used was "fathead" and not "f-g" as everyone seems to believe. In regards to "c--ksucking," he says he had no idea that it was offensive to gay people. In spite of his excuses, MSNBC, on which he has a show, is currently under pressure to distance itself from Baldwin's comments.


Andy Kaufman's brother, Michael Kaufman, says he is the victim of a hoax.
Posted: November 15, 2013


Andy Kaufman's brother, Michael Kaufman, appeared on CNN's "The Lead with Jake Tapper" and declared himself the victim of a hoax meant to trick him into believing that Andy is still alive and fathers a 24-yr-old woman. "I believe I am part of the hoax," said Michael. In regards to the woman -- actress Alexandra Tatarsky -- claiming to be Andy's daughter, he said, "I don't believe that she is acting on her own..." However, Michael also denies the rumors that he hired her to play Andy's daughter.


Kris Jenner has not ruled out dating younger men.
Posted: November 14, 2013


Now that she has separated from Bruce Jenner after 22 yrs of marriage, 58-yr-old Kris Jenner has started talking about dating, and is not ruling out the possibility of dating younger men. During a recent interview on Entertainment Tonight, Kris said, "You find who you fall in love with in life; if they happen to be a certain age, they happen to be a certain age." Recently, she has been linked to 30-yr-old Bachelor star Ben Flajnik. Ben says that they met after she invited him to her talk show.
A selfie of Kris and Bruce Jenner with their sons taken a few days after announcing their separation.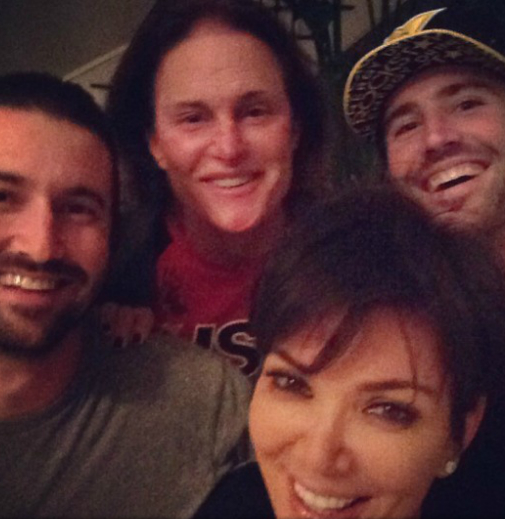 Mariah Carey says working on American Idol was like working everyday in hell with satan.
Posted: November 13, 2013


During a recent interview on Hot 97, Mariah Carey mentioned that her experience working on American Idol was like "going to work every day in hell with Satan." She then laughed and added, "Nah, I'm just playing. It didn't affect me that much -- I was just disappointed." Throughout the season, Mariah, who has 2-year-old twins with husband Nick Cannon, is known to have feuded with rapper Nicki Minaj who was also a judge on the show. Now, she says she's looking forwards to doing her own thing.
Mariah Carey compares working on American Idol to working in hell with satan.
Alec Baldwin's alleged stalker Genevieve Sabourin claims she had sex with him.
Posted: November 12, 2013


Genevieve Sabourin, Alec Baldwin's alleged stalker who has recently been sentenced to 30 days in jail for contempt of court claims she had sex with him in 2010. She also claims that she has had phone sex with him in the past. However, Baldwin claims he only had dinner with Sabourin once as a favor to a mutual friend and insists he has never had any type of sex with her. Unfortunately for Baldwin though, the "friend" reportedly claims that Baldwin is lying and that Baldwin had sex with Sabourin.


Jessica Biel is helping Lance Bass plan his upcoming wedding to Michael Turchin.
Posted: November 11, 2013


Lance Bass, known for his role as the bass singer for the former band 'N Sync is preparing for his upcoming wedding (no date set yet) to boyfriend Michael Turchin to whom he proposed in September 2013. During an interview with US Weekly, he revealed that Jessica Biel is helping him plan the wedding. One of her really cool ideas is " ... that on the invites ... send out personalized onesies to all ... guests so that at midnight after the reception it turns into a pajama party," praised Lance.